RVC Helps Students Dress for Success
Rock Valley College Career Services Center launched a Career Closet last year as part of our Career Services to support students in their job searches.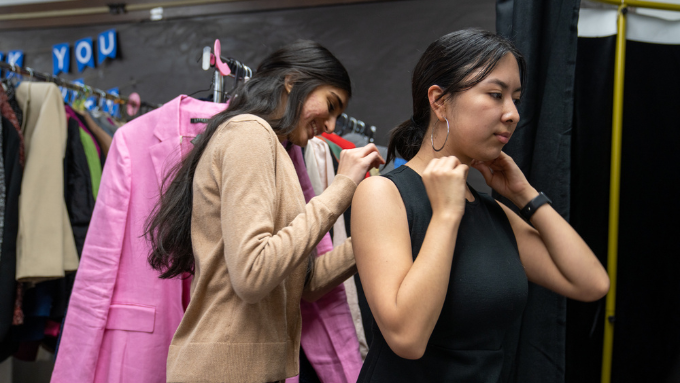 "Many times when we look our best, it helps us feel our best, which in turn helps us to present our best selves, said Dr. Terrica Huntley, Dean of Students. "Our hope is that the career closet will provide this opportunity for students and not place additional stress of having to pay for nice clothing for presentations, interviews or any situation that might require a more formal dress code."
As students prepare for their job interviews, one key aspect is choosing the right attire. The first step in this process is researching the company's dress code. By examining the company's website and social media profiles, students could gain insights into the organization's culture and work environment. Are employees dressed casually or more formally? Would the work be done on-site or remotely via Zoom?
Comfort and confidence are crucial when selecting interview attire. Clothes should be clean, well-fitting, and free of wrinkles or tears. The goal is to have a polished appearance that complemented, rather than distracted from, the focus of the interview - the qualifications and potential of the candidate.
The priorities are to present candidate qualifications and make empowered career decisions. That means attire should complement rather than distract from the real focus of the interview. Using our simple process below, students can choose an outfit confidently without spending much time and energy on this aspect of interviewing.
Formal attire would include a button-down shirt, blouse, tailored suit, and dress shoes paired with stockings or dress socks.
Casual and relaxed environments such as a manufacturing business often include khaki pants, jeans, and t-shirts.
Business casual combines formal and informal attire as a step up and should be considered for an initial interview. Non-denim pants, blazers, button-downs, dresses, and skirts are often included in these spaces.
Creative environments that you might see in a clothing store, advertising agency, or gallery might include bold, fashion-forward looks worn by their clientele.
Industry specific environments would include interview attire that may be different from what you would wear in a day-to-day environment. For example, a dental hygienist or massage therapist would wear scrubs.
"Our desire here at RVC is to make sure students are successful. This happens in multiple ways. We teach them content knowledge in the classroom, provide support resources and prepare them for situations in the real world," added Dr. Huntley. "Many students are getting their education in order to find employment. The career closet is a small way that we can provide free career clothing to help them prepare for interviews and look their best as they present their knowledge and skills in any setting."
If you are in need of professional clothing for that interview or career fair, we can help!
Students can select 3 FREE clothing items (suit, jacket, blazer, pants, skirts, blouses, shirts, dress, etc.) for each visit and up to 2 FREE accessories (purse, bag, ties, scarves, shoes, jewelry, belt, etc.) each time you visit.
RVC Career Closet is located at CLII 219 and is open by appointment. For more information or to schedule an appointment, call 815-921-4101 or email RVC-DeanofStudents@RockValleyCollege.edu