Dr Mathew Oakes Leads Civic Engagement Research as National Campus Compact Fellow
Rock Valley College professor of English, Dr. Mathew Oakes, is one of five individuals selected to be Campus Compact Community College Research Fellow for 2023-2024. Campus Compact is a national nonprofit organization dedicated to higher education, civic and community engagement.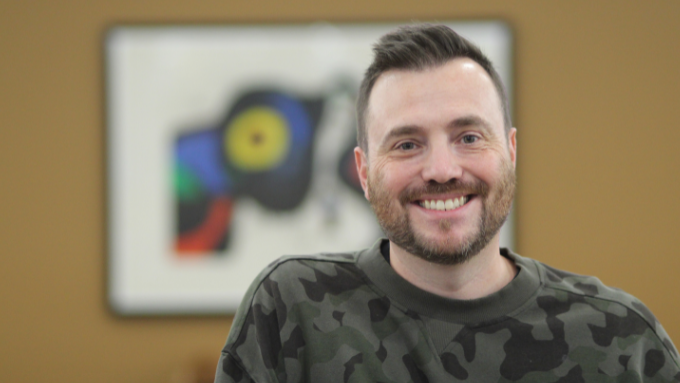 During the course of his research, Mat will be exploring and elevating the essence of civic and community engagement within the RVC community.
"Developing connections between my classroom and the community is a passion of mine," explained Mathew. "Being a Fellow with Campus Compact allows me to lead our campus in a discussion about how civic engagement is a central component of our students' learning."
Mathew joins four other fellows from across the country. Together, they will advance work in key areas, including community colleges, dialogue and deliberation, student-led engagement, rural serving institutions, anti-racist community engagement, federal policy, intercultural development, field-level research and recognition, and executive leadership. The other fellows include Lena Jones (Minneapolis College), Bernice Rosas Belmonte (Mesa Community College), Jason Legget (Kingsborough Community College), and John Unger (Blue Ridge Community and Technical College).
Thanks to the support of Lumina Foundation, Campus Compact enables the fellows to focus on a specific area of relevance to community colleges and to create resources for the field. Campus Compact helps its member institutions to build the knowledge, skills, and capacity needed to enable a just, equitable, and sustainable future.
The heart of Mathew's project lies in a series of conversations with RVC students, faculty, and staff to understand and document varying perspectives, experiences, and aspirations related to the College's Institutional Student Learning Outcome 3.3: Civic Engagement. The insights of the RVC community will not only contribute to a deeper understanding but will foster a rich dialogue and reflection within and beyond our college community.
"This opportunity for us to showcase nationally the wonderful work that's happening at RVC, but it's also an opportunity for us to learn best practices from other Campus Compact partners around the country. I'm hoping that my Fellowship helps the college build and expand on the college's existing community-based, civically engaged practices."
Learn more about the 2023-2024 fellows and more at compact.org.