RVC Foundation Scholarships
RVC Foundation Scholarships
Through the RVC Foundation, scholarships are made possible by generous donations from individuals, businesses, families, groups, and local family foundations. Every donation and every scholarship represents a genuine and heartfelt belief in the potential of education. Each donor is investing in the future, recognizing that education is not just about acquiring knowledge but also about empowering individuals to create positive change in their lives and communities. Please direct scholarship questions to the RVC Foundation.
Contact Us
(815) 921-4500
RVC Main Campus
Spring Brook House
6520 Spring Brook Road
Rockford, IL 61114
Monday-Friday: 8 a.m. - 5 p.m.
RVC Foundation Scholarship Application Portal
Access our online scholarship portal at any time to view available RVC Foundation Scholarships and create a scholarship account. During stated application periods, you will be able to complete and submit an application. Remember, one application is all you need. The scholarship system matches you to every scholarship to which you meet the specified criteria.
How to Apply for RVC Foundation Scholarships
Review RVC Foundation Scholarship Deadlines
Please do not apply early. Your submitted application must fall on or after the opening date of your application period.
Best Chance Scholarship Application Period
The Best Chance application period opens in February and closes in March.
Last Chance Scholarship Application Period
August 16, 2023 – Last Chance applications open
August 18, 2023 – Fall registration ends
August 21, 2023 – Weekday classes begin
September 2–5, 2023 – College closed
September 6, 2023 – Last Chance applications due
September 12, 2023 – Preliminary award notices sent
September 20, 2023 – Thank you letters are due and post-application tasks must be complete
September 26, 2023 – Last Chance final award notices sent
October 2, 2023 – Scholarships are posted to your account
Complete the Financial Aid Process
If you are eligible, file the FAFSA.
File the FAFSA and complete the process through the RVC Financial Aid department. Not sure where you stand? From the RockValleyCollege.edu website, click MyRVC in the top-right corner, then choose "Self Service" and log in to the "Financial Aid" section to check your file. Please Note: Form 1 will be the top or only item in the list without an explanation. If it's listed, you need to complete it. Don't overlook it!
– OR –
If you are not eligible for FAFSA, or not applying for Federal Student Aid, explain why when you write your Financial Statement within the scholarship application.
Apply for RVC Foundation Scholarships
If you created a scholarship account this year, and already have an application on file:
Edit your answers to make sure they are current. Answer the new question(s).

Update your Personal and Educational statements. Write or update your financial statement.

If you are in engineering or one of the health careers, update that application also.
If you have not applied for a scholarship during this year:
Create a scholarship account. Access your RVC student email and confirm your account. You have 6 hours to confirm your account before the link is no longer valid. NOTE: When creating your account, if you get the message, "Email account does not exist", you did not go to your RVC student email and click the link to confirm your account. If you get the message that you are "locked out" of your account, wait 30 minutes and try again. This is a system lock, and we cannot unlock you.
Complete the General Application & focus on writing good Personal, Educational, and Financial Statements. They don't have to be long, but they need to be about YOU. Below are a few examples to illustrate good statements.

Be specific:

Poor example: My education goal is to get my degree (certificate) and start my career.
Good example 1: My education goal is to get my CNC Machining Certificate from RVC along with my NIMS certificates and work for one of the major manufacturing companies in the Rockford area.
Good example 2: My education goal is to receive my Associate of Arts degree from Rock Valley then transfer to NIU to receive my Bachelor in elementary Education. I hope to find a job teaching elementary education for Rockford District 205. What I'd really like to do is teach second grade, if I can.

Be personal:

Poor example: Receiving an RVC Foundation scholarship would mean a lot to me because I have a lot of bills to pay and I want to buy a new car. (Remember, scholarships cover tuition, fees and books. Not personal expenses.)
Good example 1: Receiving an RVC Foundation scholarship would mean a lot to me because there would be confirmation that someone believes I can be successful. I tried the traditional college route which didn't work out for me. However, I know I can become the CNC technician I want to be. Your belief in my success is just the push I need to continue to work hard in all of my classes.
Good example 2: I can't remember a time when I didn't want to teach. My dad taught high school history, and my mom teaches 4th grade, so I grew up with lesson plans and bulletin boards, class projects and papers to grade, and can't wait until I can do the same thing. With my parents' example to follow, I know I can become the teacher I want to be, and the fact that you have shown you believe in me too by providing this generous scholarship means more than I can say.
If you have any questions, please contact the RVC Foundation at RVC-Foundation@RockValleyCollege.edu or (815) 921-4500. We're here to help!
Engineering Focus Scholarships
If you are an RVC engineering student, complete the engineering application's required fields. We have plenty of scholarships available for ALL engineering disciplines.
If you are an NIU@RVC Mechanical Engineering student and have been accepted at NIU, you must also provide your NIU "Z" number, NIU student email address, a copy of your Financial Aid letter from NIU for the 2023-2024 school year, and a copy of your unofficial transcript. Be sure you've registered for classes before downloading your unofficial transcript. Please note that the NIU@RVC program is only for students pursuing a Bachelor of Science in Mechanical Engineering and who will be attending classes on the Rock Valley College campus. No other engineering degree is acceptable, including the "online only" BS in Applied Manufacturing Technology.
Healthcare Focus Scholarships
If you are planning a career in a health field, you will now have an additional application with questions pertaining to your particular focus. There are applications that coincide with RVC's three applied science degrees: Nursing, Respiratory Therapy, and Dental Hygiene, as well as an application for all other health careers, such as Pharmacist, Veterinarian, Doctor, Surgeon, Psychiatrist, etc. The choice you make in answer to the "Major" question on the general application will determine which conditional health career application will be open to you. You may complete only one.
About RVC Foundation Scholarships
$450K
over $450,000 of scholarships awarded to our students this year
400
students received RVC Foundation scholarships this year
350
RVC Foundation scholarships awarded this year
157
actively funded scholarships through the RVC Foundation
Other Scholarship Searches
In addition to applying for an RVC Foundation scholarship, we also suggest you seek out additional scholarship opportunities.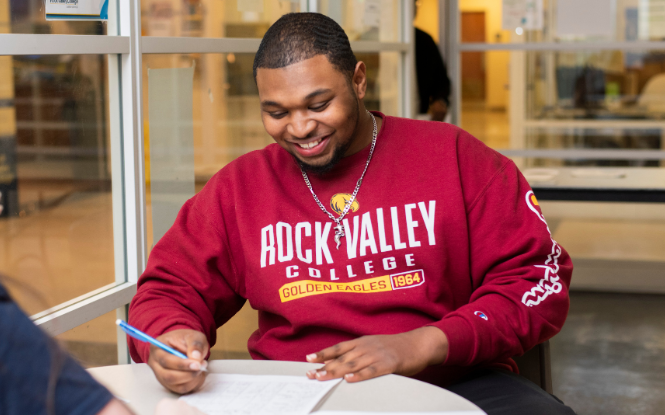 RVC Foundation Student Emergency Relief Funds
If you are currently experiencing a financial crisis, you may qualify for assistance through the RVC Foundation's Student Emergency Relief Funds. To apply, kindly reach out to a trusted RVC employee who will serve as your sponsor and help you with your application.
Frequently Asked Questions
RVC Foundation Scholarships are provided by donors who believe in your right to receive a good education at a quality institution. Many of them are alumni of Rock Valley College, others are your neighbors, friends and employers, and still more believe in the Rockford community as a whole and know that education is the key to economic growth. Whatever their reasons, our donors are passionate people. Some make big gifts that will fund a scholarship for years to come, others make small gifts month after month, year after year. They all have one goal in mind – to give you a chance at a brighter future.
Be a student in good standing (2.0 cumulative GPA and 67% completion rate), complete the financial aid process at RVC or NIU, and register for fall classes. That's it. This does not mean you'll be matched with every scholarship the RVC Foundation offers, but you will match many of them. And finally, write out your statements ahead of time. Put some thought into them. Remember, you are not writing a text message! Your statements are the way that the donor and the scholarship committee get to know you. You'll need 3 of them: 1) What it will mean to you if you should receive an RVC Foundation Scholarship; 2) Your education and career goals; and 3) Financial information that you are willing to share.
Both the preliminary award email and the final award email will be sent to your RVC student email account. It is your responsibility to monitor your RVC student email account. Any email we send will come from RVC-Foundation@RockValleyCollege.edu. Please add our email to your contacts list. We also require that you provide a textable cell number for notification purposes. You may also provide a personal email address.
It depends. The more information you provide, the better matched you'll be to multiple scholarships. See above. In general, unless a donor has specified a particular dollar amount, scholarships are awarded based on how many credits you will be taking in the fall, your official student status (freshman, sophomore) and your GPA.
At the top of the RVC Foundation scholarship web page is a list of important dates. Check your RVC student email account when those dates occur. NOTE: Even though we make every attempt to get all notices out to applicants as stated, there is a chance that our scholarship provider will hold the emails in a queue and release them in the middle of the night. You may not see your notice until the next day.
Your scholarship award will be posted to your financial aid account shortly after you receive your final award notice. The date will be provided within that notice. This allows you to see the balance of tuition owed and make arrangements for payment. However, the funds will not be released to you until after the 10th day of classes, in either fall or spring semester. As long as your scholarship shows as "pending", you have nothing to worry about. If there's any other message by the scholarship name, please contact the Foundation office at RVC-Foundation@RockValleyCollege.edu so that we may investigate and make sure your funds go through.
Call us at (815) 921-4500 for the Foundation office, or (815) 921-4506 to reach the scholarship manager. We all love to talk to students, and will be happy to answer your questions and help you through the process. You can also email RVC-Foundation@RockValleyCollege.edu.