The Fab Five
You've likely heard of the "Fabulous Four," but have you heard of the Fabulous Five? And no, we are not referring to Yoko Ono. Rather, we are referring to the most recent graduates of Rock Valley College's Massage Therapy program: Lilia Mendoza, Shauniqua Jones, Jozlynn Overton, Monica Snyder, and Tracy Orims. So, how did they earn this title?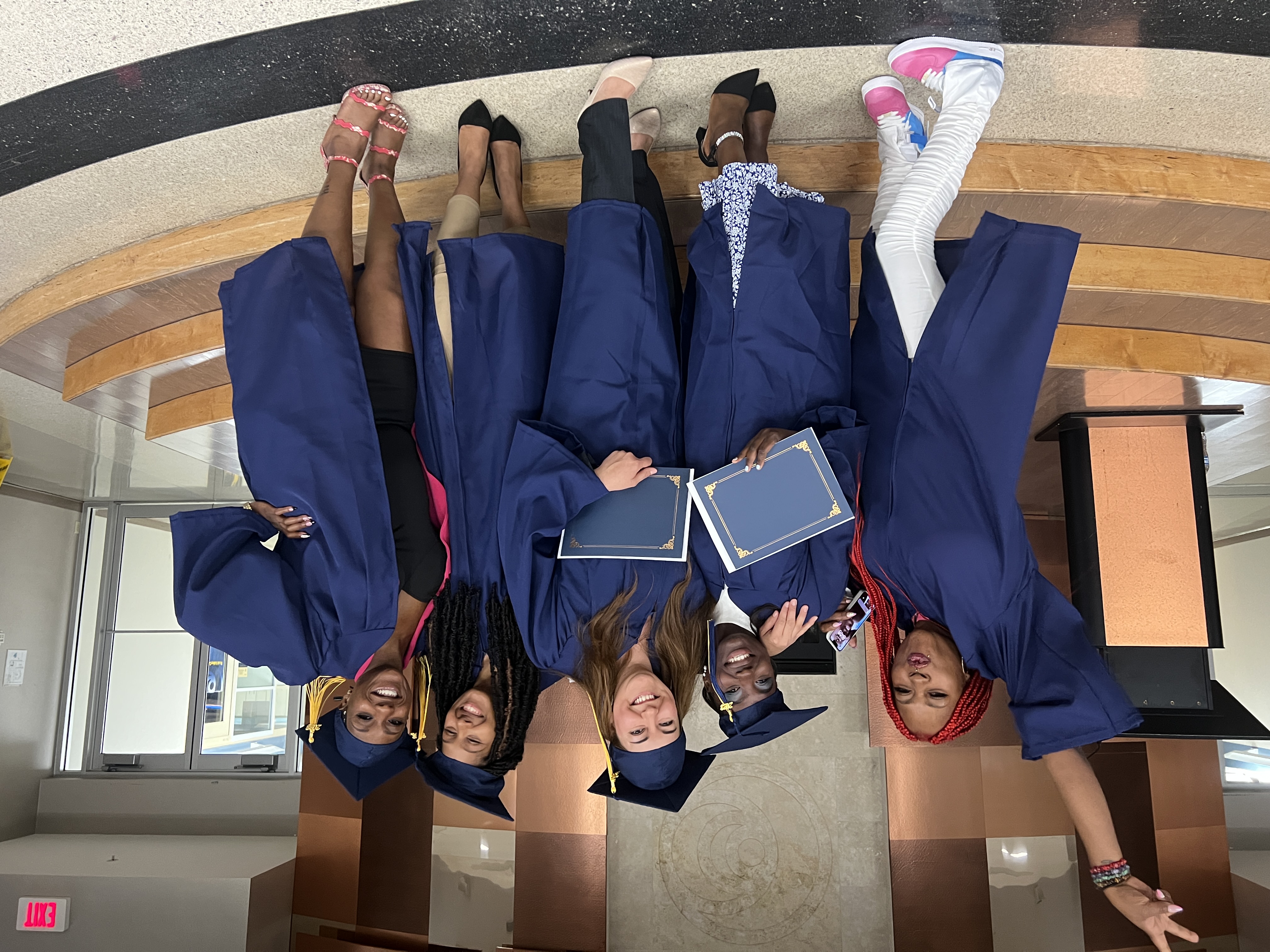 On the first day of class, these five women entered the classroom frightened of what was before them. As a cohort, they quickly discovered that to get through the 600-hour comprehensive and hands-on training program, they would need each other.
"I think I can speak for all of us teachers, when I say that from the first day, we knew these women were going to be an incredible class and they would be just the group of personalities we needed, to make the year an adventure to remember," said Tiffany Czerwin, RVC Massage Therapy Instructor. "The energy that these students brought with them every week, the drive they showed us even when things got difficult for them...is something you simply do not see every day as a teacher."
Starting off the program as strangers, their bond and support for one another grew to be unmistakable. Together, they experienced the highest of highs and the lowest of lows; from the joys of a new life to the grief of loss, illness, and self-doubt. While they had each other, they credit their instructors for getting them through the program.
According to Tracy Orims, one of the Fabulous Five, "I gained a family that never gave up on me when I was battling health issues that could have taken my life. My director, instructors, and classmates fought for me until the day I walked across the stage."
That director is Jamie Fanara. With over 17 years of experience as a licensed massage therapist and business owner, she has a passion for the industry and a desire to mentor and support other therapists. This passion led her to create the program at RVC in partnership with Bodycraft Wellness & Massage Center.
"From the very beginning, I meet with all of the students to discuss their goals and aspirations, and I get to know each of them on a personal level. Even though I do not actively teach as much as I used to, I am there every step of the way to offer guidance and support, and to ensure that each student has the best possible experience," said Jamie.
The massage training program here is a 600-hour program designed to prepare students for a career as a professional massage therapist. The program is typically completed over 12 months, and it provides a comprehensive and hands-on learning experience that equips students with the skills and knowledge needed to succeed in this rewarding field.
Upon completing the program, graduates are eligible to take the licensing exam required to become a licensed massage therapist. With their comprehensive training and education, graduates are well-equipped to embark on a fulfilling and rewarding career in massage therapy, helping others heal and promoting wellness in the world around them.
The program is rigorous, and life doesn't stop for continuing education. Whether it was memorizing muscle groups or taking notes when someone was out, this group stuck together and crossed the finish line.
"These women have passion and some of the biggest, most sincere hearts. They all helped each other study and build each other up if one of them was struggling," continued Tiffany. "These women are strong. They fight for what they want even when it might feel like the world around them is crumbling."
With the work behind them, the Fabulous Five are off to their careers as licensed massage therapists. And, the RVC faculty have no doubts that they will be successful in the next leg of their journey.
In regards to their journey, Tracy concluded, "RVC is a place where all are welcome and no one is left behind. This school gives hope and lots of love. I am blessed to be a part of the RVC family."
To learn more about the massage therapy program at RVC, visit https://rockvalleycollege.edu/academics/programs/massage-therapy.