RVC Celebrates Employees at Professional Development Day
RVC holds a Professional Development Day for staff and faculty each academic year in the Spring and Fall.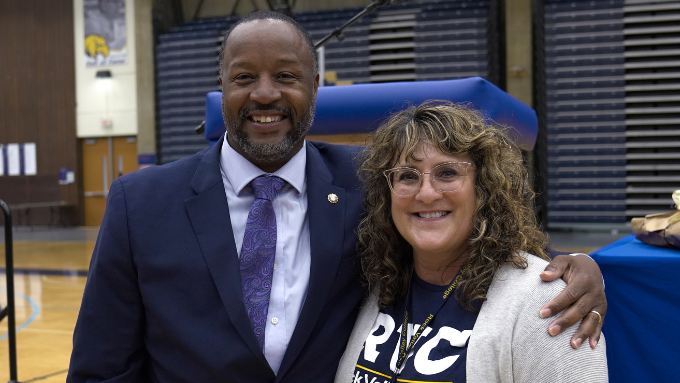 This year's event highlighted updates from President Dr. Spearman and his leadership team, offering informative breakout sessions tailored to faculty and staff. Additionally, the conference introduced new team members and celebrated outstanding achievements with recognition awards.
An integral part of this tradition is acknowledging and appreciating exceptional individuals who contribute to the RVC's success. We extend our heartfelt congratulations to this year's honorees:
Rachel St.John, Rookie of the Year
Amy Heilman, Employee of the Year
Dr. Lisa Mehlig, Leader of the Year
The following individuals were recognized as  new employees hired since the last Fall PD Day:
Lori Mack

Henry Roe

Lloyd Johnson

Holly Sammons

Sonethap Syavong

Terrence Wandtke

Elina Wlaznik

Grahm Rademaker

Brenda Perez

Kari Hearns

Nicole Ritter

Matthew Flores

Yazmine Flores

Jacob Poole

Paul Wieland

Brie Grable

Chase Estrada

Betty Hoshaw

Tawnee Calhoun

Daniel Rohrer

Michael Berkley

Anna Cicero

Peter Held

Heather Persaud

Hanna Bohrer

Zachary Dohm

Olivia Schoonover

Gina McConoughey

Megan Wright

Corey Ginger

Kimberlee Liedberg

Tyler Burg

Armando Quinones

Nathaniel Jordan

Autumn Czizek

Chad Tewell

Miranda Southall

Heidi Weisensel

Dafne Perez-Acosta
Those recognized for five years of service included:
David Dosier

Sara Anderson

Timothy Soenksen

Erica Matthews

Grant Schubert

Kristy Pierce

Lien Vu

Andriana Londono

Jerry Hose II

Michele Graham

Rachel Boge

Mary Peterson

Christopher Wasson

Mark Lanting

Ana Mirnic

Anna Wandtke

Andrea McCauley

Elizabeth Duhn

Viviana Marquez

Kati Furman

Ellen Olson

Betsabe Saucedo

William Isham

Salima Amrani

Allison King
Honorees for ten years of service included:
Darryl Watkins

Terrica Huntley

Angela Yerk

Rebecca Bach

Arline Lawson

Rebecca Blystone

Cheryl Miller

Rylee Antczak

Natalie Mahaney

Maria Flores Lozano

Carl Trank

Dusty Kayser

Icidora Medrano

George Winiarski

Eric Woulfe

Tammy Whitehead

Joshua Glovinsky

Patrick Peyer

Debra Funk
Those honored for fifteen years of service included:
Jenn Mickelson

Rob Maculan

Tammy Lewis

Susan Stopoulos

John Skupien

Patrick Sugrue

Richard Gocken

Ann Kerwitz

Marc Rubert

Tracy Hazen

Michael Schoening
Those honored for twenty years of service included:
Jenny Kosinski

Jan-Nicholas Korneski

Lori McKinney
Those honored for twenty-five years of service included:
Kathleen McCarty

Kimberly Patterson

Timothy Hatten

Martin Quirk
Those honored for thirty years of service included:
Dawn Ousley

Mathew Vincent

Diana Rippentrop

Mitchell Dally

Michelle Rotert

Amy Heilman
Janet Taylor was recognized as a thirty-five-year honoree. Congratulations to all of our 2023 RVC honorees!