Hispanic Heritage Month at RVC
For 55 years, Hispanic Heritage has been observed in the United States. Under the leadership of President Lyndon Johnson, it began as Hispanic Heritage Week in 1968. Fast forward twenty years to 1988, when President Ronald Reagan expanded the observation from one week to a 30-day period starting on September 15 and ending on October 15.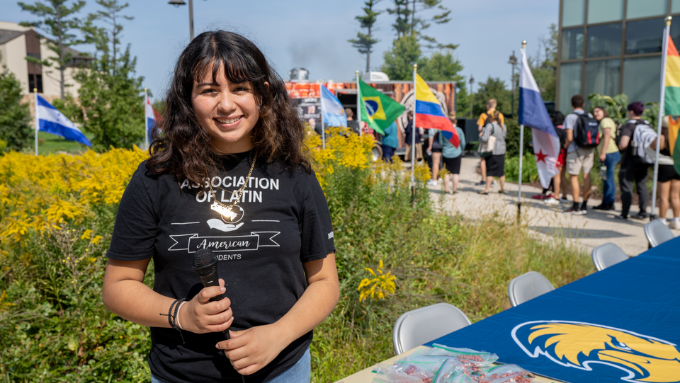 Starting in the middle of the month makes Hispanic Heritage Month unique. According to HispanicHeritageMonth.gov, "The day of September 15 is significant because it is the anniversary of independence for Latin American countries Costa Rica, El Salvador, Guatemala, Honduras and Nicaragua. In addition, Mexico and Chile celebrate their independence days on September 16 and September 18, respectively. Also, Columbus Day or Día de la Raza, which is October 12, falls within this 30-day period."
Continuing with this tradition, the Rock Valley College Hispanic Culture Committee has planned a series of events that officially kick off on Monday, September 18.
Here is a look at the events planned:
Walking in My Shoes SEPT. 15 from 8:30 – 9:30 am • RVC Physical Education Center (PEC) Room 0110. Faculty and staff will view a portion of the docuseries The Graduates/Los Graduados, followed by a discussion. Traditional Mexican breakfast items will be served. The discussion will help RVC faculty and staff better understand the experiences of first-generation Hispanic students at RVC.
College Kick-Off Event

SEPT. 18 from 11:30 am - 1:30 pm • RVC Main Campus Between the Jacobs Center for Science and Mathematics (JCSM) and Classroom Building I (CL I). There will be music, games, and food.

Mexican Museum in Chicago

SEPT. 22 - All Day • Bus departs from Main Campus. RVC Students can learn more by contacting RVC-ISS@RockValleyCollege.edu.

Honoring Student-Athletes OCT. 4 from 11:30 am - 1:30 pm • Main Campus, PEC 0110. In partnership with the RVC E-Sports Club, the Hispanic Culture Committee will recognize members of the RVC Men's and Women's Soccer Teams. Refreshments will be provided.

Kahoot Game & Activities

OCT. 10 from noon - 1 pm • Main Campus, Student Center (SC) Atrium. Event participants will engage in a fun game of history and trivia. There will be trivia prizes, and refreshments will be served.
Rock Valley College is committed to creating a sense of belonging for all students, faculty, and staff. These events and others like them support RVC's Strategic Plan Pillar of Diversity, Equity, and Inclusion.
All Hispanic Heritage Month activities are planned by RVC's Hispanic Culture Committee. For more information, visit RockValleyCollege.edu/calendar or contact Betty Villalobos-Hallmann at (815) 921-4277 or B.Villalobos-Hallmann@rockvalleycollege.edu.