RVC Welcomes New Concert Band Director
Rock Valley College is pleased to welcome Mr. Jeremiah Kramper as the new Concert Band Director.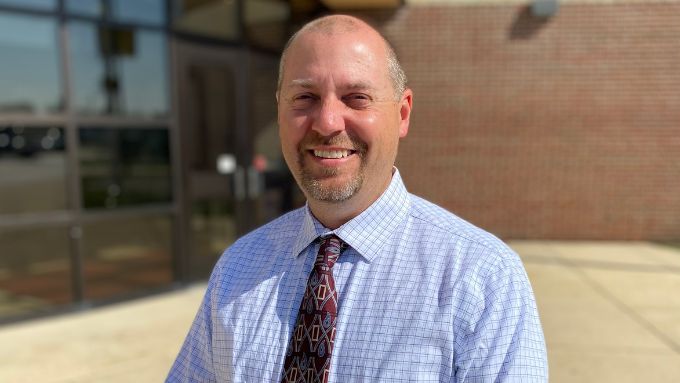 With a rich history of musical excellence, the Concert Band continues to captivate audiences with its performances, and Mr. Kramper's extensive experience and passion for music promise to bring new heights to the ensemble. "Mr. Kramper has built a reputation for excellence in teaching, musicianship, and steady band leadership during his tenure at Hononegah High School," said RVC Music Director Christopher Joyner. "His ability to build relationships and create a safe and caring atmosphere for his students are qualities that we continue to foster in the Music Department at RVC. We welcome Mr. Kramper and look forward to great things to come in this school year!"
Mr. Kramper brings a wealth of knowledge and dedication to his role, entering his 24th year in public school education and his 18th year as the director of bands and the fine arts department coordinator at Hononegah Community High School. A graduate of the University of Illinois, where he had the privilege of studying under renowned conductors and educators, including Gary Smith and Dr. Deb Confredo. While teaching in Rockton, his ensembles have earned superior ratings at various contests and festivals.
Throughout his career, Mr. Kramper has demonstrated a commitment to music education and community engagement. He has served as the RPS Honor Band conductor and has been recognized for his exceptional contributions, receiving the 2018 Rockford Symphony Orchestra Music Educator of the Year Award. Mr. Kramper's musical talents have also been showcased in orchestra pits with prestigious groups such as the RVC Starlight Theater, the Rockford Wind Ensemble, and the Beloit College Band.
"I am tremendously excited and humbled to join the legacy of outstanding band directors at Rock Valley College," Mr. Kramper remarked. "The Rock Valley College Concert Band has a rich tradition of producing beautiful music that resonates with both the college and the community. I am eager to build upon this tradition and foster a stronger connection between the ensemble and our community through the power of music."