Jaden Newson Crosses the Line at RVC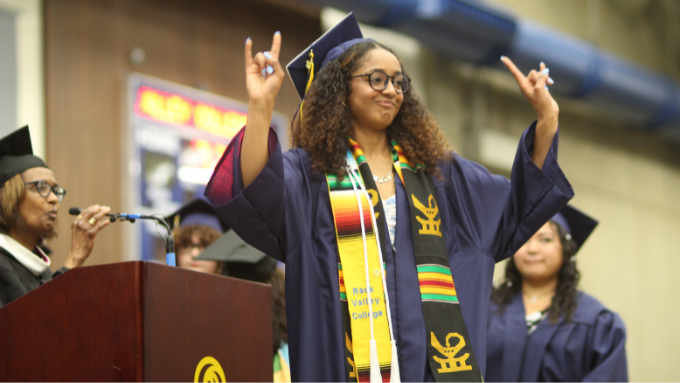 Jaden Newson submerged herself into all things RVC, serving as a Student Ambassador, becoming the President of the Student Athlete Advisory Council, and joining The Bookworms club. She was a fixture at the college's Welcome Desk, greeting prospective students with a contagious enthusiasm that never failed to ignite the same passion in them.
"Jaden is truly an Ambassador of Rock Valley College," said Annie Romanello, Welcome Center Coordinator. She shares her enthusiasm and care for others in the classroom, on the court, and at the Welcome Center. Her infectious smile is always ready to share her love of RVC with current and future students, staff, and the community. We are lucky to have had her here for the last two years."
Jaden's decision to attend college far away was underlined by crossing the line, a running theme in her family. Her maternal grandparents had emigrated from Mexico to the United States in the '90s with a modest sixth-grade education and scarcely enough money to get by. They worked relentlessly, her grandmother initially as a cleaning lady and her grandfather as a carpenter, and they owned their own business. On her father's side, Jaden's ancestors had migrated from the South before the civil rights movement. Her great-grandfather found a factory job in Rockford in 1948 as part of the Great Migration.
From the moment she crossed the state line, a sense of nervous anticipation gripped Jaden. Leaving the comforting familiarity of Sterling, Colorado, a small town about two hours northeast of Denver, she took the daunting leap toward an unknown future at RVC. A highly talented basketball player, Jaden had been recruited by RVC to join their Women's Basketball team, an offer that presented a fresh set of challenges and opportunities.
The road to success at RVC was challenging, but Jaden met every hurdle head-on. She embraced the balance of being a student-athlete, honing her time management skills, and overcoming her procrastination. She embodied the very spirit of RVC, juggling her responsibilities with grit and determination. "Jaden is well-versed on RVC, an environment that she, in fact, impacts significantly on a daily basis," said Tim Romanello, Asst. Athletic Director-Compliance. "She's an incredibly intelligent, passionate young woman that desires nothing less than seeing people around her succeed. She exemplifies the very person RVC is all about – an individual striving for more and wanting to give back all at the same time."
But it was not just the academics and sports that enriched Jaden's life at RVC. It was the people. From the staff to her fellow students, she found a sense of community that went beyond mere friendships. It felt like a family.\
"I have met some lifelong friends here at RVC," said Jaden. Not only that, but the staff is so amazing that I know if I am struggling, there is always someone willing to help."
Throughout her journey at RVC, Jaden found her calling in Education. A lifelong love of school translated into her desire to cultivate an environment where students felt the same adoration for learning. "If I could study to be a student for the rest of my life, I would," said Jaden. "The world is in our hands. I want to have a hand in teaching and guiding the next generation to be ready to take the world."
In her two years at RVC, Jaden achieved significant accolades. She made the dean's list during the 2021-2022 school year and received her Associate of Arts degree. Her profound impact on the college and its community did not go unnoticed. Jaden's commitment and zeal earned her glowing reviews from her peers, professors, and staff at RVC.
As Jaden prepares to further her education at North Central College in Naperville, Illinois, she looked back at her journey with a sense of accomplishment. She had crossed that state line years ago, leaving behind everything familiar, but in the process, she had found a new home, a new family, and a clearer vision for her future.
From basketball to academics, from her role as a student ambassador to her part-time job at Marshalls and her babysitting gig for two amazing boys, Jaden immersed herself fully in her new life. Despite the unfamiliarity and the challenges, Jaden wouldn't trade her time at RVC for anything. To her, it was exactly where she was supposed to be.