GED Student Rewards Herself
It's been 30 years since the last time Maricela Garcia attended a class. She came to the United States from Mexico in 1996 at 15 and had only completed school through sixth grade.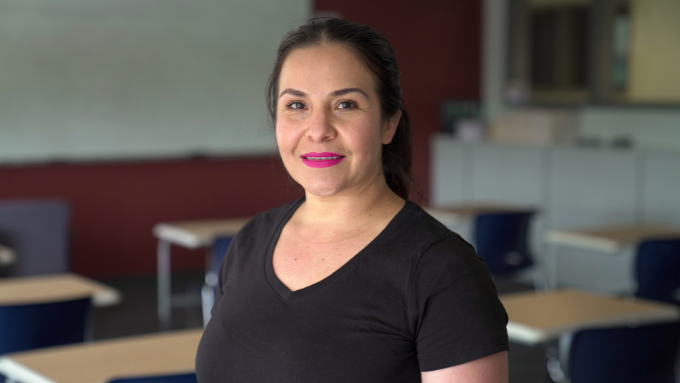 She wanted to learn English and thought about going to school. "But, you know, it was always something that I thought, how are you going to do it?" said Maricela. You know, you don't speak 100% English, and it's not going to make a difference." Maricela became a mother at 17. Her second child came along shortly after. She had to continue to work and put food on the table. For many years she would resign herself to getting her GED "next year."
Eventually, Maricela decided to take the GED entrance exam and passed her test. She was very nervous but didn't want to put any more limitations on herself. Her new instructor, Verna Rentsch, believed in her. Verna always pushed the group and offered to meet in smaller groups after school.
When it was time for her first test in class, she didn't pass it. She was ready to give up, but Verna encouraged her to tackle each test individually. "Maricela is a most inspiring student to have in class," said Verna. "She always stays upbeat and even though we all may have shed some tears together throughout the class, whether it be that someone missed a passing score by two points or talking about shared past experiences and tough times; Maricela always offered kind words of encouragement and positivity."
Maricela completed her GED, a fantastic accomplishment after studying six grade levels in two semesters. She attended classes at the RVC main campus, a 25-minute drive from her home in Belvidere. "I feel like you have to travel so you can feel that you know that you're doing something good. So, it was hard, driving 25 minutes, the traffic and cold snow, getting the kids to the babysitter." It was tough. And there were times she told her husband she didn't know if she could do it or if it was right. She was struggling and wanted to quit. He encouraged her to keep going; if she wanted to graduate, she had to do it.
Many of Maricela's friends her age or older, with children and grandchildren never finished school. She's making it her mission to share the sign-up links for GED classes and offers to watch their kids. Because of her encouragement, some of her friends are attending classes at RVC. "It's more with Hispanic women that you marry; you have kids. That's it. You can't go to school. You can't do anything else," said Maricela. "But you know you can still do many things, even for your family."
Her favorite part about the GED program was being with students of all ages and backgrounds. "Everyone's got all these different stories and problems and things going on, but everyone's got the same collective goal of doing something for themselves."
Maricela plans to take a computer course to gain more skills. She wants to earn her CNA certificate to become a hospice CNA and be in the nursing field. "I feel like it's going to be a good beginning for me," said Maricela. "I have five kids. My older son is 25. So, I wanted to show them that it doesn't matter how old you are or your limitations. You can do it. If it is something that you want to do, you can do it."