A Journey of Resilience and Success
Belvidere native Alyssa Bird embarked on her academic journey at Rock Valley College with a clear vision and desire to make a difference in people's lives. Choosing RVC as her first step towards higher education, Alyssa found solace in the proximity to her loved ones and the college's reputation for providing a cost-effective and quality education.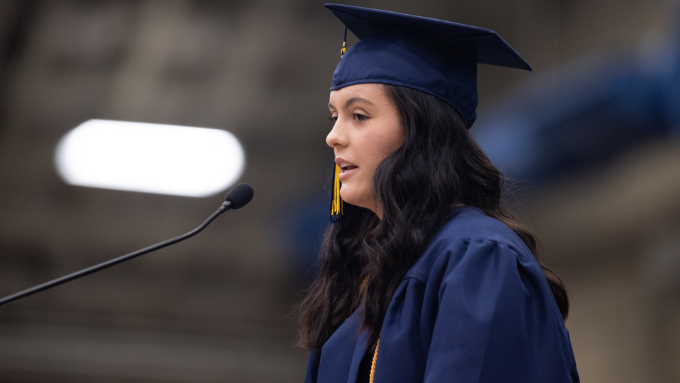 "Alyssa has been a wonderful addition to not only our team as a student ambassador but also to RVC as a whole," said Casey Hauser, Manager of New Student Enrollment. "She is someone who never shies away from a challenge and always steps up when others do not. During Alyssa's time at RVC, you could find her behind the Welcome Desk, representing RVC at various community events, and even as Arvee (shhh!)."
One aspect of RVC that Alyssa cherished the most was its vibrant and supportive community. Throughout her time at the college, she built strong connections with fellow students, mentors, and friends who were always ready to lend a helping hand. Her peers' genuine care and dedication, whether it was academic guidance or personal support, deeply impacted Alyssa and fueled her motivation to succeed. "It has been an amazing experience to watch Alyssa's growth and watching her truly find herself during her two years here at RVC, said Casey Hauser. "From starting as a shy first-semester student from Belvidere North to leading student clubs, running for Student Trustee, and everything in between. She will be greatly missed, but I cannot wait to see all the amazing things she accomplishes next!"
Alyssa's journey at RVC was challenging. As a first-generation student, she had to navigate the complexities of higher education on her own. Alyssa faced obstacles in determining her life's path, defining her identity, and ensuring she reached her full potential. Academically, she encountered difficult classes and demanding deadlines. Nevertheless, these trials only strengthened her resolve to face any challenge head-on, knowing that she had the support of the RVC community.
She also encountered failure along the way. During her seventh-grade year, she decided to try out for her middle school's volleyball team, inspired by her friends' involvement in sports. She made the team, to her delight, and volleyball became an integral part of her life throughout middle school, high school, and club levels. However, she faced disappointment when she sought to continue her athletic career at RVC. Alyssa did not make the team, and it took a toll on her emotionally.
In the face of this setback, Alyssa's parents stepped in to support her. Her father, aware of a job opportunity on campus, encouraged her to apply. Alyssa seized the chance and became a Student Ambassador at RVC. This experience turned out to be a turning point in her life. Over the next two years, she made numerous friends, encountered remarkable opportunities, and discovered her true potential. From being nominated for prestigious scholarships to representing RVC at community events, Alyssa's accomplishments multiplied.
"RVC has helped me pursue my goals through constant support. I know that I can continue to reach for things I wish to accomplish because of the people here who are there to help me along the way," said Alyssa.
As Alyssa prepares to graduate from RVC with her Associate in Science degree, her resilience and determination shine through her achievements. Her involvement as a Student Ambassador, her contributions as a student in-class assistant for disability support services, and her leadership as the co-founder and president of the Bookworms – Book Club exemplify her commitment to positively impacting campus.
Looking ahead, Alyssa plans to continue her academic journey at Northern Illinois University (NIU), pursuing a major in Biological Science. Her sights are set on obtaining her Bachelor's degree before embarking on the path to medical school, with her ultimate goal being to become an anesthesiologist. "I am transferring to Northern Illinois University to obtain my Bachelor of Science degree," said Alyssa. "I am currently a part of their honors program and plan to get involved in the Women and Gender Advocacy Alliance. After NIU, I plan to continue my education to the highest level I can to work towards becoming a distinguished Doctor of Medicine in Anesthesiology."
Alyssa's unwavering determination and experiences at RVC have equipped her with the tools she needs to realize her dreams.