2023 Eagle Awards of Excellence
The 2023 Eagle Awards of Excellence in Diversity, Equity, and Inclusion were held on Friday, April 28, in the Student Center Atrium. The Eagle Awards of Excellence recognizes excellence in the following categories: Student, Faculty, Staff, Community Partner, and Distinguished Service.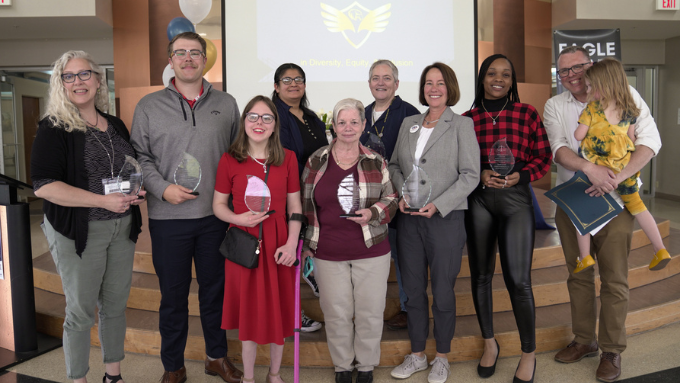 RVC is committed to creating and sustaining a diverse, equitable, and inclusive campus where all learners can progress toward their educational and spiritual goals. The college established initiatives, measures, programs, procedures, and curricula to advance student equity and inclusion. "We want to transform right here at RVC. Listening to our core values, cultural competence, equity mindfulness, fairness, mutual respect, objective truth, sense of belonging, and solidarity. Those are the tenants that will get us the transformation that we seek," said Mr. Keith Barnes, Vice President of Diversity, Equity, and Inclusion.
RVC President Dr. Spearman thanked the attendees and honorees for allowing the institution to move forward with DEI efforts. "Diversity matters; it's critical conversations," said Dr. Howard Spearman, RVC President. "And people have to be comfortable in their own skin and have a sense of belonging."
The following individuals were recognized with an Eagle Award of Excellence:
Outstanding Student: A student who has given outstanding contributions to the diversity, equity, and inclusion efforts by promoting and participating in programming on and off campus.
Outstanding Staff: An individual that displays a commitment to creating an inclusive community.
Eliza Franco-Gonzalez
Anna Wandtke
Bianca Davis
Outstanding Faculty: An individual who has championed diversity, equity, and inclusion inside and outside the classroom during their time at RVC.
Michelle Rotert
Robert "Bob" Betts
Outstanding Community Partner: An individual or organization that incorporates DEI within their mission and/or practices, and has a proven record of partnering with RVC to identify and create access and opportunities more reflective of the community served.
League of Women Voters Greater Rockford
National Women Veteran United (She-Vet) Rockford Chapter
Theresa Paulette Gilbert Distinguished Service Award: PAIC leadership chooses this distinguished award based upon a commitment to social justice in acts and advocacy.
Dr. Florence Cephus – Posthumous Award
Dr. Florence Cephus, counselor and professor emerita, was the first African American professional hired at Rock Valley College in 1968; she retired in 1998 after serving the college for 30 years. She founded the Focus on Women program and established the Adult Life Planning Center.
All honorees received the following message along with their award: Your work and effort in creating a sense of belonging for others within this community has been recognized. The results of "doing the work" out of a sense of duty can be rewarding in and of itself. We wanted you to know that your impact on others has not gone unnoticed. It is our hope that you continue to be a champion for creating space and impacting the lives of others.
Congratulations to all our award recipients!