Program Type
Associate in Applied Science
Paying for Your Program
Contact
Division of Nursing & Allied Health
Main Campus - Health Sciences Center
About the Program
A nursing career is dynamic and exciting. No two days on the frontline of healthcare are the same. At Rock Valley College, our nursing program faculty are responding to the ever changing needs in healthcare by offering top quality nursing education from highly experienced instructors who care. With attention to developing proficient hands-on skills, critical thinking to anticipate client needs, and outstanding communication with clients, families and other members of the healthcare team, the RVC nursing program teaches students to protect the cultural dignity of the client within legal and ethical frameworks. The excellent education provided is evident by our exceptional NCLEX pass rates remaining higher than national and state averages.
How to Apply
NAD 101 Nursing Aide – Proof of satisfactory completion of an approved nursing assistant course and active certification as a nursing assistant is required.
NRS 104 Pathophysiology: Altered Health Concepts (3 credits) – Course must be within 2 years with a grade of "C" or better.
Overall 2.50 GPA in the following courses:

BIO 100 or 103 Introductory Biology
BIO 185* Foundations of Anatomy & Physiology (5 credits) – OR – BIO 281* & 282* Human Anatomy & Physiology I & II (8 credit total)
BIO 274* Microbiology (4 credits)
CHM 110 General, Organic, and Biochemistry (4 credits)
PSY 170 General Psychology (3 credits)
ENG 101 Composition I (3 credits)

*If an "A" or a "B" was earned on the only attempt of Anatomy/Physiology or Microbiology, there is no expiration of these courses.
ATI TEAS (Scheduled through the RVC Testing Center)

ATI TEAS Test Version Seven (3 ½ hours)
Overall Score: must be "Proficient Level" or higher
If any of the sub-scores are at a "Developmental" level, a student will be disqualified from consideration and will need to re-take the TEAS.

Electives (total of 9 credit hours required)

FWS 237 Nutrition for Optimum Living (3 credits)
MTH 220 Elements of Statistics (3 credits)
PSY 270 Lifespan Development Psychology (3 credits)
SOC 190 Introduction to Sociology (3 credits)
SPH 131 Fundamentals of Communication (3 credits)
All prospective nursing students are highly encouraged to watch the Registered Nursing Program video to learn more about RVC's options and pathways. The video focuses on nursing as a career and on admission requirements and is narrated by the Dean of Nursing and Allied Health together with an Academic Advisor.
Nursing Information Session Video
Once you have reviewed the admission requirements and nursing information session, you may complete the Nursing Program Application (PDF) to apply.
What can I do with this degree?
Potential Careers & Wages
Program Pathways
Students should meet with an Academic Advisor to develop a clear pathway leading to a seamless transfer experience or transition to the workforce. For additional possibilities that may require an advanced degree or certification, make an appointment with an Academic Advisor.
Nursing at RVC
Check out this short video to learn more about the Nursing program at RVC!
Rock Valley College's (RVC) Associate Degree Registered Nursing (RN) Program has recently been accredited by the Accreditation Commission for Education in Nursing (ACEN).
While being approved by the Illinois State Board of Nursing since 1967, the new accreditation from ACEN is a new (higher) level of distinction for the RVC RN Program that comes after six years of work by the faculty and staff.
Some of the benefits of ACEN accreditation include:
A higher level of distinction from other RN Programs that are not ACEN accredited
Greater transferability to in-state and out-of-state Bachelor of Science in Nursing (BSN) Programs
A nationally recognized achievement that employers often seek when hiring RN candidates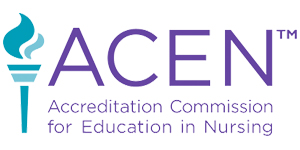 The Accreditation Commission for Education in Nursing
3390 Peachtree Road NE, Suite 1400
Atlanta, Georgia 30326
Rock Valley College's RN Program will be up for re-accreditation in 2025.
All students who successfully complete the RVC Nursing program earn an Associate in Applied Science (AAS) degree and are eligible to sit for the NCLEX-RN to earn the Registered Nurse (RN) credential. All our graduates are employable at all three local hospitals in Rockford, as well as other healthcare agencies. Once hired, these hospital employers are expecting nurses to complete their Bachelor of Science in Nursing (BSN) Degree. To help facilitate an easy transition into an RN-BSN Completion Program, RVC Nursing has developed partnerships with five RN-BSN Completion Programs.
The nursing program is responsible for providing our community with quality nurses who care for their clients safely. In order to become a quality, safe practicing nurse, students will be required to attend all classes and all clinicals. Students are expected to provide their own transportation to clinical sites.
All nursing courses require a "C", which is 80% to pass. Students who do not earn a "C" (80%) or better in any given nursing course will remediate by course repetition. Course repetition is only allowed once.
All supporting courses/electives required for the degree must also be completed with a "C" or higher in order to receive the A.A.S. degree in nursing.
The nursing program provides clinical education at various clinical agencies. The nursing program must adhere to these facilities' requirements. All admitted students will be required to provide the following at the expense of the student. Blood work can be done at your doctor's office, Health Department, or AnyTime Lab (815) 397-8370.
Physical exam

Tdap (within 10 years)

TB 2-Step and Annual TB test (for Annual QuantiFeron TV Gold blood test)

MMR Titers

Varicella Titers

Hepatitis B 3 shot series & Titer

CPR

Health Insurance

10-Panel Drug Testing

GSA/IOG Background Check
Upon successful completion of the nursing program, students will sit for the NCLEX-RN exam to earn the credentials of RN (Registered Nurse). This process has additional fees. Approximately $450.
Fingerprinting Fee
Application Fee for NCLEX-RN testing
NCLEX-RN Exam Fee
RN Licensure Fee
On completion of the Associate Degree, nursing component of the Rock Valley College Nursing Program the graduate shall practice in accordance with the State of Illinois Nurse Practice Act and shall:
Apply clinical and theoretical knowledge and skills to providing care.
Use effective communication with clients, families, and the healthcare team.
Incorporate cultural variances to provide client-centered care.

Apply ethical and legal knowledge and skills to providing patient care.
NCLEX-RN Pass Rate: RVC Nursing Program will meet or exceed the national pass rate on the NCLEX-RN exam by a means of 3 year average – 87.6% (National Average) compared to 90% (RVC Average).
Program Completion Rate: 75% of the RVC Nursing students will successfully complete the Nursing Program within 3 years of beginning the program (program length = 2 years)
Job Placement: 85% (of received surveys) of graduates will obtain employment as a RN within one year of passing the NCLEX-RN exam.
You are encouraged to meet with an Academic Advisor to ensure a seamless pathway from prerequisite courses through the nursing program and into a BSN completion program.
The Nursing Academic Advisor is Amanda Lonsway and she is located in the Health Sciences Center.
For more information, please contact Amanda Lonsway at a.lonsway@rockvalleycollege.edu
Related Programs
Testimonial
We have access to a lot of tools here in the lab and we do a lot of simulations, we have our rotation sites, and it just honestly puts us in a really good position to become a nurse and do that transiton easily.
Eratzee
Nursing Class of 2023
Testimonial
Before I took the NCLEX, I actually found a job so I'm already hired and I'll be starting soon. So, that's pretty exciting!
Jose
Nursing Class of 2023