Beginning life as a new college student is an exciting time and a time of change. RVC Library invites you to look at these eBooks for ideas on managing studies and maintaining other areas of your life.
Teach Yourself How to Learn: Strategies You Can Use to Ace Any Course at Any Level
by Saundra Yancy McGuire

McGuire introduces the reader to the concept of metacognition and the importance of understanding ourselves as learners. This framework and the recommended strategies that support it are useful for anyone moving on to a more advanced stage of education.
Mindfulness for Teen Worry
by Jeffrey Bernstein
Easy-to-use mindfulness skills to manage the four most common worry struggles teens face: school pressure, coping with friendship and relationship problems, improving body image, and handling family conflicts.
Life Preservers: Staying Afloat in Love And Life
by Harriet Goldhor Lerner

Lerner offers advice to women on love, friendship, marriage, parenting and sexual politics. Her warm, conversational style is engaging and meshes well with her commonsense approach to problem solving. Lerner advises women that many emotional problems between people spring from a lack of communication, and that differences must be faced before they can be solved.
Getting Straight As: A Student's Guide to Success
by Richard Palmer

Ideal for students of 15 years and above, this guide to getting the best marks possible will help all readers maximize their academic potential. Packed with practical advice, tips, quizzes and self-assessment exercises to hone study and exam skills this book is designed to help high-fliers who are both ambitious and aware of their talent. The perfect companion to the same author's book Studying for Success, this book will help those who aim for the top to reach it!
Studying for Success
by Richard Palmer

The third edition of this lively and stimulating book offers and enlightening new approach to effective study. Without minimizing the importance of good organization and hard work, the author stresses throughout that study can and must be fun. To experience the real benefits to be gained from study requires a positive, self-directed approach. The advice offered in this book will help the student find and adopt the study methods most suited to his/her needs.
Motivation and Learning Strategies for College Success: A Self-management Approach
by Myron H. Dembo

A motivation and learning strategies textbook that bridges research and practice! "Motivation and Learning Strategies for College Success, Second Edition teaches college students how to become more self-directed learners.
When Hope and Fear Collide : A Portrait of Today's College Student
by Arthur Levine

The book examines a generation motivated by a conflicting sense of hope and fear. While today's students fear a great many things both on a global and local level they are less pessimistic than the previous generation, as they look for ways to make a difference in their world.
Living The College Life: Real Students, Real Experiences
by Kenneth J. Paulsen

Provides information for college students on such topics as roommates, academics, campus life, choosing a major, relationships, and money.
The Power Of Nonverbal Communication: How You Act Is More Important Than What You Say
by Henry H. Calero

Here are practical tips for understanding the inner motivations of others, and for controlling your own message to the world. Non-verbal communication isn't about beauty or fashion or external first impressions. It is the sum total of ones' vocal inflections, facial expressions, gestures, posture and physical demeanor when communicating with others.
Nutrition for Dummies
by Carol Ann Rinzler

An updated reference source offers a comprehensive, sensible look at proper nutrition, exploring the latest findings and information on the subject, discussing such hot topics as phytochemicals and dietary supplements, trans fats, genetically engineered foods, energy drinks, and more.
The Official Gold's Gym Beginner's Guide to Fitness : The Authority On Fitness Since 1965
by David Porter

Introduces physical fitness to people just starting to exercise, covering equipment and clothing, how to stay motivated, warming up, how to use free-standing weights and exercise machines, and nutrition. Written for people with no gym experience, this beginner's guide to total fitness covers training methods, the latest fitness technology, and exercises for developing upper back, lower back, chest, shoulders, arms, abs, legs, and buttocks.
Adolescent Health Sourcebook

Provides consumer health information about the physical, mental, and emotional health and development of adolescents. Includes index, glossary of related terms, and other resources
      Practice for Life: Making Decisions in College by Lee J. Cuba
Disruptions in college provide opportunities for reflection and course-correction as students learn to navigate the future uncertainties of adulthood.
Learning to Learn Online
by Kwantlen Polytechnic Learning Centres
An introduction to the online learning environment and your role as a learner within it. Effective learning online requires time management, information management, professional communication, and reading strategies.
A Student's Guide to a Meaningful Career: Choices, Education, and Opportunities
by Vickie Ann McCoy
A dynamic workbook that will help you uncover your unique qualities, passions, and strengths, then consider complementary career paths.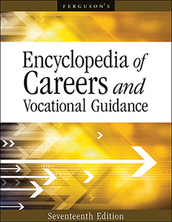 Encyclopedia of Careers and Vocational Guidance
Ferguson Publishing
This encyclopedia covers career information and guidance, divided into five sections: Career Guidance; Career Fields and Industries; Career Articles; Appendix I: Career Resources and Associations for Individuals with Disabilities; and Appendix II: Internships, Apprenticeships, and Training Programs.